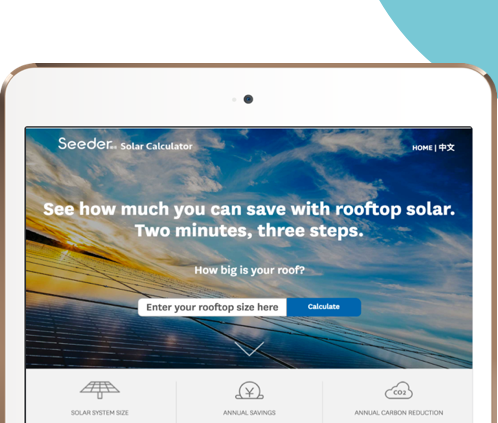 Putting solar panels on your roof can be a difficult process to start. Before you go out to find credible parties to design, source, and install a solar system, you need the basic information to answer a simple but essential question:
Is rooftop solar a good idea for my building?
We believe everyone should be able to answer that question quickly, so you can kickstart your rooftop solar project with confidence.

That is why we developed Seeder Solar Calculator for commercial and industrial buildings. By answering four basic questions, you can get a preliminary assessment of your rooftop solar potential and financials in minutes.

These four questions are:
How big is your roof?

Which province is your building in?

What is your average electricity price?

What is your average monthly electricity bill?
Using data and formulas proved in real-life projects, the Calculator gives you the essential financial information — up front cost, money saved, payback period, and IRR — you need to determine whether it is a good investment.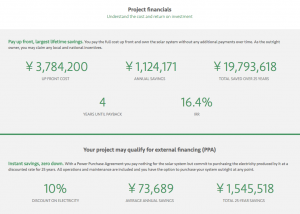 If the building owners are not able to cover the upfront cost, in most cases*, Seeder can bring in external financiers to pay for the system. Using a Power Purchase Agreement (PPA), a building can enjoy cheaper and cleaner electricity from its rooftop solar system without any cost. The Calculator also presents the financial benefits for building owners with PPA financing.
Kickstart your rooftop solar project with confidence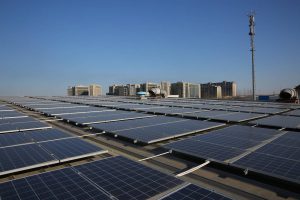 Seeder brought PPA financing to the Redwood Group's warehouse in Tongzhou.
The purpose of the Solar Calculator is to give you the confidence to take the next steps in a rooftop solar project. If you think it can be a promising idea, Seeder can provide you with a more detailed assessment free of charge. All you need to do is to provide your contact information or send us an email from the Calculator.
"Having environmentally sustainable features is seen as a competitive advantage."

— Michael De Jong-Douglas, Managing Director, e-Shang Redwood
We believe rooftop solar is one of most effective ways to switch to clean energy, reduce air pollution and carbon emissions. Seeder is making that process easier and faster. We hope you can join us to accelerate the clean energy transformation, and the Solar Calculator is the best way to start.
---
Check out the Seeder Solar Calculator >
Help us make it better >
* Company profile, rooftop size, electricity consumption and electricity prices may determine whether a project can qualify PPA.
http://seederenergy.com/wp-content/uploads/2016/08/Calculator-1.png
800
498
user
http://seederenergy.com/wp-content/uploads/2016/08/SEEDER-LOGO-01-300x97.png
user
2016-07-13 05:30:03
2016-10-16 21:43:59
Seeder Solar Calculator: Your Quick First Step to Rooftop Solar